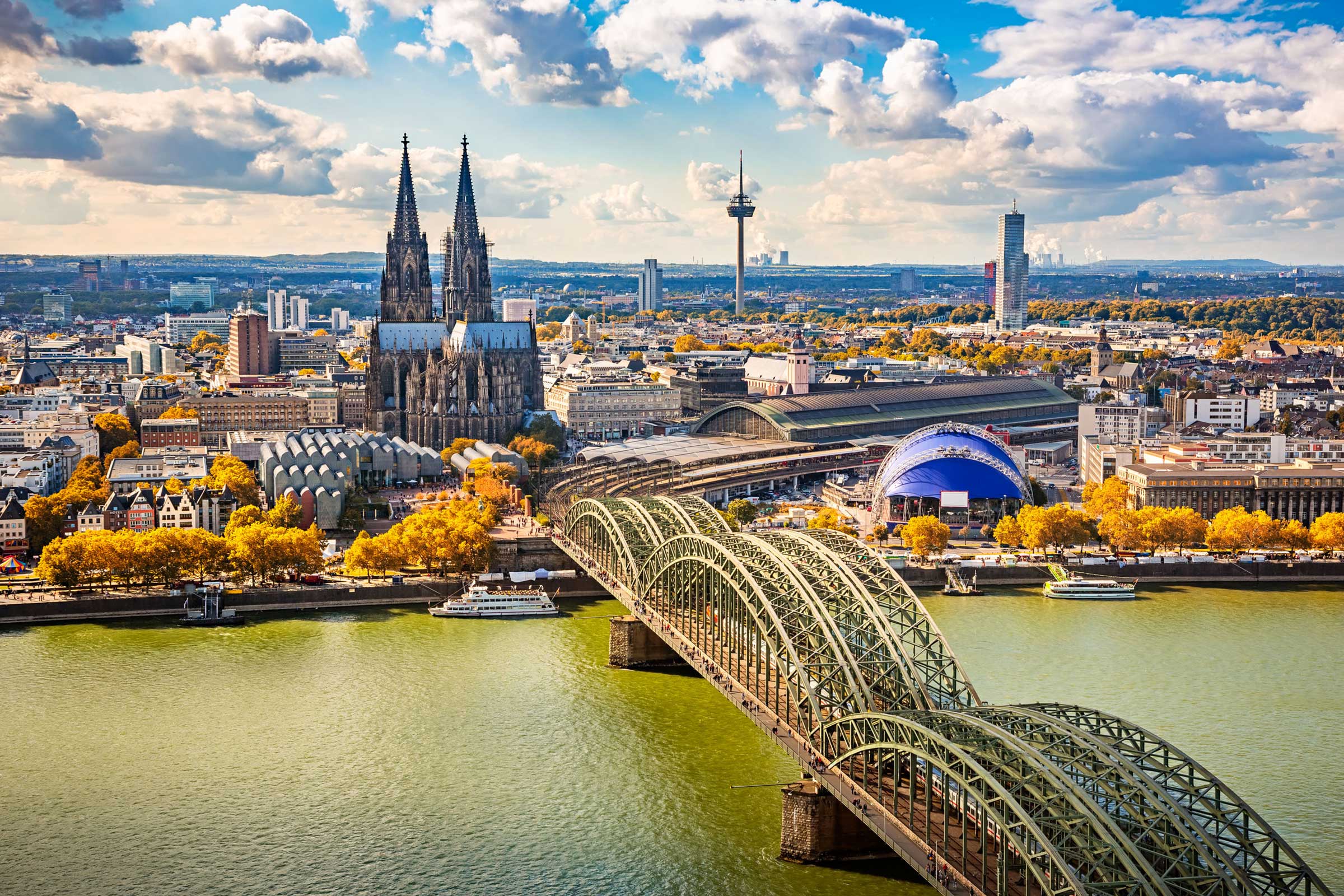 Welcome to Cologne
–colorful Cologne got its name by its Roman past as the city of Colonia
Cologne has a long and eventful history, which can still be admired in some buildings today. Also Cologne's numerous museums and galleries offer a varied choice for visitors to learn more about the city. The spectrum of exhibits ranges from Roman artefacts in the Roman-Germanic Museum and medieval art in the Wallraf Richartz Museum & Fondation Corboud to modern works in places such as the Museum Ludwig and the Museum für Angewandte Kunst.
Cologne Cathedral, whose twin towers dominate the skyline of the city, is a Gothic building whose foundation stone was laid in 1248. It was declared a World Heritage Site by UNESCO in 1996. Another famous sight in Cologne is the Hohenzollern Bridge, famous for its many padlocks, which were hung there as a sign of love and friendship.
The city has its very own charm and joie-de-vivre, which can be found in the residents of the city! Over a beer in one of the beer halls or in Cologne's beautiful Old Town, you can get to know the city from the resident's perspective!
We have listed for you the most beautiful tours of Cologne to prepare you the most beautiful vacation.
Let your personal guide guide you on our Highlights Tour through the city and discover the sights and learn more about their history! If you are interested in Cologne Cathedral, but also in architecture and history, we recommend the Cathedral Tour, where you will learn everything about the cathedral!
Do you have an appetite for typical Cologne specialities? Then explore Cologne's gastronomic scene on our Food Tour!
Cologne also offers a number of activities for children, which we suggest at Cologne for kids for you.
For an extraordinary hotel experience right in Cologne's city centre, we recommend the Excelsior Hotel Ernst or the Hyatt Regency Cologne and only a 30-minute drive by car away from Cologne there is the Grandhotel Schloss Bensberg.
Enjoy Cologne!
Take a look at our exciting tours in Cologne: